Jonas Kaufmann & Ludovic Tézier
Deutsche Radio Philharmonie Saarbrücken Kaiserslautern
"So?" "Yep. "Good thing we talked." Men are eloquently silent. But these two sing. On stage they often fight each other to the death, but personally they are friends: German tenor Jonas Kaufmann and French baritone Ludovic Tézier capitalize on this contrast for their duet recital at the Festspielhaus. The motto of the concert is "Insieme" ("Together"). "With Ludovic, I can go all out," says Kaufmann, who also talks about a "vocal wrestling match." When the two opponents go at each other to the music of Verdi and Puccini, the audience is sure to be the victor.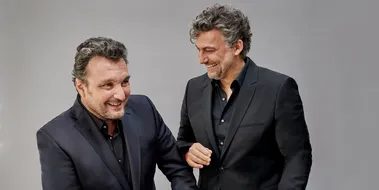 Program
Giuseppe Verdi
From "La forza del destino":
Overture
Solenne in quest'ora (duet)
Morir! Tremenda cosa
La vita è inferno all'infelice
Invano Alvaro ti celasti al mondo (duet)
***
Giuseppe Verdi
Overture to "I vespri siciliani"
Amilcare Ponchielli
From "La Gioconda"
Enzo Grimaldi, Principe di Santafior (duet)
Danza delle ore (ballet music)
Cielo e mar

Giuseppe Verdi
From "Otello":
Credo in un Dio crudel
Tu? Indietro!
Estimated end time: 20:30
Ludovic Tézier
Deutsche Radio Philharmonie Saarbrücken Kaiserslautern
Cooperation and partnership
Patrons of the Concert: Isolde Laukien-Kleiner