West Side Story
Two Gangs. One Love.
"Maria," "Somewhere," "America" - Leonard Bernstein's immortal melodies and outstanding choreography by Jerome Robbins have redefined an entire genre. Bernstein's group scenes took ensembles from Mozart's operas as their model - and you can hear it! To this day, the musical classic is considered the unrivaled number one, both musically and scenically: bold, explosive and groundbreaking. Steven Spielberg's Oscar-winning remake of 2021 proves once again how uniquely timeless West Side Story is.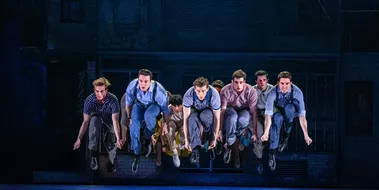 Program
In English without surtitles.
Estimated end time: 10:00 PM
West Side Story - Ensemble
Cooperation and partnership
Presented by: BB Promotion
Encore!
You might also like