Secure the best seats! For discounts click on the i-button next to "Book".
Move & Groove Percussion Festival
For percussion enthusiasts ages eight and up
The Whitsun Festival is coming soon! Now the SWR Symphonieorchester is already rehearsing at the Festspielhaus, and we want to be sure not to miss this opportunity. We'll catch hold of the SWR percussionists and embark together on a musical journey of discovery, to which you are most warmly invited: people ages 8 to 88 who suspect that percussionists can do much more than simply hit their instruments. The percussion section is a wonderful cosmos in itself which knows no boundaries. You can even make music with everyday objects – and will discover how thrilling this can sound over the course of two days.
Have you ever wanted to perform on the main Festspielhaus stage? Then we're going to make your dream come true. Participants in this workshop will not only discover the world of percussion, but also perform in a joint concert. It doesn't matter whether you have any previous musical knowledge, we'll get you ready for the stage! You can look forward to a fantastic weekend as you explore the world of sounds and rhythm with others – and enjoy the final applause at the Sunday afternoon concert.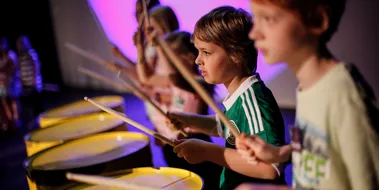 Program
Two-day workshop with final concert
SA 20.5.23, 10 am– 5 pm (Workshop)
SU 21.5.23, 10 am – 4 pm (Workshop)
SU 21.5.23, 4 pm (Final concert)

Estimated end time: 6:00 PM
Schlagzeuger des SWR Symphonieorchesters
Cooperation and partnership
Patrons of the Concert: Alice Thormählen
Encore!
You might also like