Secure the best seats! For discounts click on the i-button next to "Book".
London Philharmonic Orchestra
Vladimir Jurowski, Conductor
Three Mahler symphonies will be heard this year at the Festspielhaus, the Second on January 29, the Seventh on May 28, and the Ninth this evening, with three conductors leading three world-class orchestras. Three approaches to a composer who marks a symphonic end point. After Mahler's death, the symphony as a genre had to be reinvented. The composer himself foresaw this when he drew a parallel between his Ninth and another Ninth: that of Beethoven. Beethoven's Ninth is in D minor, Mahler's in D major. Beethoven concludes in jubilation while Mahler fades away in pianissimo. These bridges are so important to Berlin-based Russian conductor Vladimir Jurowski that he first presented Beethoven symphonies in Mahler's arrangements before venturing into Mahler himself.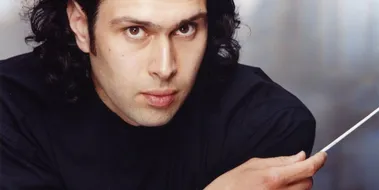 Program
Gustav Mahler
Symphony No. 9 in D major
Estimated end time: 18:25
Vladimir Jurowski
Conductor
London Philharmonic Orchestra