Secure the best seats! For discounts click on the i-button next to "Book".
Julia Fischer & Soloists of the Academy of St. Martin in the Fields
Sunday matinee
In her interviews, Julia Fischer often emphasizes two things: hard work and passion. She is less keen on "non-dramatists" of the instrument. The daughter of the pianist Viera Fischer and the mathematician Frank-Michael Fischer began playing at the age of four, gave her first violin concert at eight, and was appointed Professor at the music university in Frankfurt am Main at the age of twenty-three. She is one of the world's leading violinists, has been awarded the Federal Cross of Merit, and also performs as a pianist. In the Festspielhaus, she will be presenting a concert with soloists from the Academy of St Martin in the Fields – and will also integrate selected members of the children's orchestra.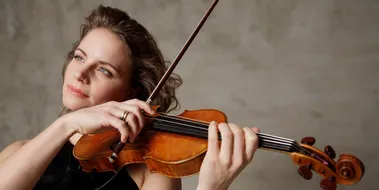 Program
Antonio Vivaldi
Concerto for four violins in B minor

Gustav Holst
St. Paul's Suite for string orchestra
Johann Sebastian Bach
5th Brandenburg Concerto
Antonio Vivaldi
Summer from "The Four Seasons"
Estimated end time: 12:00 PM
Johannes X. Schachtner
Conductor
Solisten der Academy of St Martin in the Fields
Gäste der Kindersinfoniker
Encore!
You might also like