Jess Gillam
Sunday matinee
She was the first saxophonist to win the woodwind final of the BBC Young Musician of the Year: since then, Jess Gillam has made a name for herself as a musician, when she doesn't take the microphone herself, for example as host of This Classical Life on BBC Radio 3. Gillam is the first saxophonist to sign with Decca Classics, and her debut album Rise reached number one on the official British classical charts. All good reasons to invite her as a rising star to the Festspielhaus, with a program that presents the entire range of her instrument.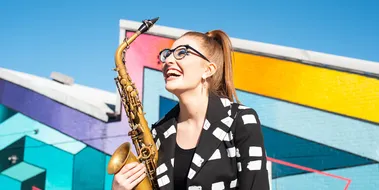 Program
Francis Poulenc
Sonata for Oboe and Piano "To the memory of Sergei Prokofiev"
Barbara Thompson
The Unseen Way
Georg Philipp Telemann
Sonata in F minor for Bassoon and Basso Continuo, TWV 41:f1
Astor Piazzolla
Histoire du Tango for flute and guitar (excerpt)
John Dowland
Flow, My Tears
Kurt Weill
Je ne t'aime pas
John Harle
RANT!
Estimated end time: 12:00
Cooperation and partnership
Patrons of the Concert: Silke Weber
Encore!
You might also like