Emoi and Moi Animated Film Concert
For children ages three and up and their companions
Who says sheep can't be purple too? Or green? For children, white sheep can also shimmer red or blue, and this is another reason to be so fond of them. Each sheep is different, just as there are no two identical heads of cabbage. Our animated films, which are accompanied by live music, are all about such differences. Every laugh, every trip-up, every moment of wonderment in the film will get its own sound. The children watch the films, see the musicians and realize how they are mutually interdependent. A poetic adventure for people ages three and up and their families.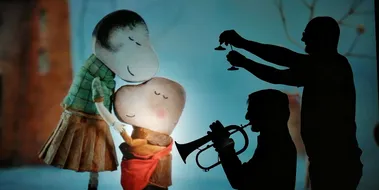 Program
A production by Label Caravan
Estimated end time: 15:40
Pierre-Yves Prothais
Trumpet, Sousaphone, Keyboard
Matthieu Letournel
Percussion
Encore!
You might also like