Children's Play-Along Orchestra Julia Fischer
Play-along concert for children ages seven and up
What we usually hear is: "Learn your instrument for a few years, and then you can play in the orchestra." We beg to differ. If someone hasn't experienced the magic and the incredible sound in the middle of the orchestra at an early age, they may not know what they are constantly practicing alone for. So today it's time to join the orchestra – even with little previous knowledge. Because our orchestra is special. Firstly, we have the Kindersymphoniker, a children's orchestra from the Munich area for children ages seven and up, founded and artistically supervised by renowned violinist Julia Fischer. They will be joined by soloists from the equally famous English orchestra, the Academy of St Martin in the Fields. The children will discover the magic of orchestral playing together and learn a program that they will go on to present in a final concert.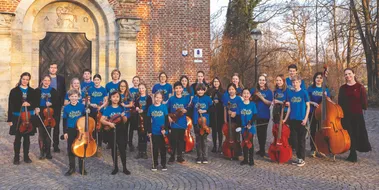 Program
SA 22.7.23, 10 - 17 h (workshop)
SU 23.7.23, 10 - 16 h (workshop)
SU 23.7.23, 15 h (final concert)

Price (workshops 22.7. and 23.7.): 25 €
Price final concert 23.7.: free admission

Johannes X. Schachtner
Conductor
Kinder-Mitmach-Orchester Kindersinfoniker
Solisten der Academy of St Martin in the Fields
Encore!
You might also like