Bomsori Kim
Sunday matinee
This is one of those concerts guaranteed to send shivers down your spine. Korean violinist Bomsori Kim combines music that was considered almost unplayable at the time it was composed and that still takes listeners' breath away today with masterpieces by Sibelius and Debussy. Some of the works are infused with oriental melodies, especially true of the concert's most brilliant work: Debussy's Sonata, the last piece by the composer who was already terminally ill which merges Spanish, French, and jazz elements and where the listener travels from Granada at night to a Chinese treasure chamber. Composers such as Szymanowski and Debussy were like sponges who absorbed influences uncensored from the outside. Their art was simultaneously free, purist, and voluptuous, everything was possible and everything was connected with everything.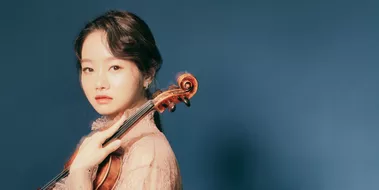 Program
Henryk Wieniawski
Polonaise de concert (Polonaise brillante) in D major, op. 4
Claude Debussy
Sonata in G minor
Karol Szymanowski
Nocturne and Tarantella, op. 28
Jean Sibelius
Souvenir, Dance Idyll and Berceuse from Six Pieces, op. 79
Henryk Wieniawski
Fantaisie brillante on Themes from Gounod's Faust, op. 20
Estimated end time: 12:10
Encore!
You might also like