Berlin, Berlin
The great show of the Golden Twenties
Berlin, Berlin in Baden-Baden? Glitter meets glamor – no sooner is it evoked than people immediately dream of it: the cesspool of vice that was the capital during the Golden Twenties, with its freedoms, new beginnings, transvestite bars, and jazz pubs. Marlene Dietrich's cigarettes and Josephine Baker's banana skirt, the green cactus of the Comedian Harmonists and Anita Berber's sable fur. Today, women don't wear fur, don't smoke, and bananas are used to make protein shakes. The show from the Admiralspalast tells of times when things were still different. Its enormous success is a sign that something may perhaps be missing today: a reason, for example, to start the day at 10 am with a glass of champagne. In the Berlin the show recalls with dancing and singing, the night ended at 9 o'clock in the morning. And after an hour of beauty sleep, it all began again with the next dance on the volcano.
Age recommendation: from 14 years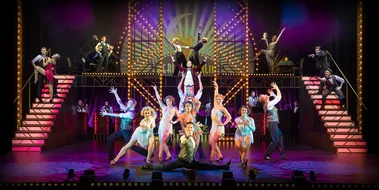 Program
Estimated end time: 21:30
Berlin, Berlin - Ensemble
Cooperation and partnership
In collaboration with: BB Promotion
Encore!
You might also like