Aris Quartett
Sunday matinee
The young Aris Quartet, which has already won numerous first prizes, has chosen a program for its Festspielhaus debut that offers insights into the lives of two composers: for Grieg, a marriage crisis, and for Mendelssohn the shock at the death of his sister. Mendelssohn's music expresses this shock as a convulsion: the quartet begins like an earthquake, and only in the slow movement does it find some measure of peace.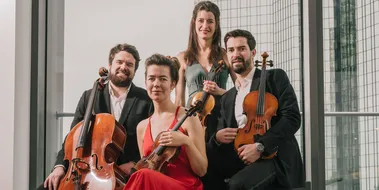 Program
Felix Mendelssohn Bartholdy
String Quartet No. 6 in F minor, op. 80
Misato Mochizuki
in-side
Edvard Grieg
String Quartet No. 1 in G minor, op. 27
Estimated end time: 12:05
Encore!
You might also like