Anne-Sophie Mutter & Mutter's Virtuosi
When Anne-Sophie Mutter performs with the best of her scholarship students, she is sure to showcase a few masterpieces from the enormous repertoire for string ensemble – such as André Previn's Nonet specially composed for her Virtuosi, in which two quartets compete with each other, held together by the double bass. In addition, the musicians take us along into an ingenious labyrinth of mirrors: Bach's Third Brandenburg Concerto, perhaps the most beautiful Baroque work for pure string ensemble.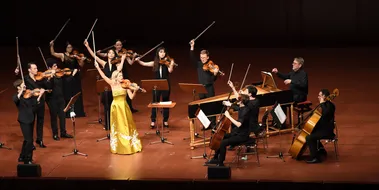 Program
Antonio Vivaldi
Concerto in F major for 3 violins, string orchestra and basso continuo
Johann Sebastian Bach
Violin Concerto No. 1 in A minor
BWV 1041
André Previn
Nonet for Two String Quartets and Double Bass
Johann Sebastian Bach
Brandenburg Concerto
No. 3 in G major, BWV 1048
Joseph Bologne, Chevalier de Saint-Georges
Violin Concerto in A major, op. 5, no. 2
Estimated end time: 19:40
Cooperation and partnership
Patrons of the Concert: Isolde Laukien-Kleiner
Encore!
You might also like