Secure the best seats! For discounts click on the i-button next to "Book".
Where have all the flowers gone
An evening by Edvin Revazov
WHERE HAVE ALL THE FLOWERS GONE is a production that goes back to an initiative of the Hamburg Ballet to support Ukrainian dancers in Hamburg.
Edvin Revazov, born in the Ukraine, received his training in Moscow and at the Ballet School of the Hamburg Ballet. John Neumeier created many roles for him. Revazov choreographed "Vesna" and "Closed Rooms" for the "Young Choreographers" as well as "Rain Memories" for Germany's National Youth Ballet.
Radu Poklitaru is the founder and director for 16 years of the Kiev Modern Ballet. Originally from Moldova, the dancer and choreographer had previously made a career in Russia and Belarus and was the first choreographer at the National Opera of Moldova.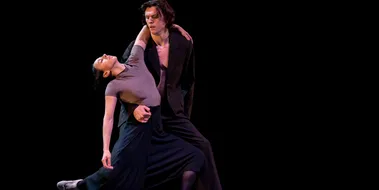 Program
"Nine Dates" by Radu Poklitaru
"Requiem" by Edvin Revazov

Tänzerinnen und Tänzer des ukrainischen Nationalballetts
Tänzerinnen und Künstler vom Hamburg Ballett
Kiew Modern Ballet