Songbook
Bundesjugendballett
Everyone is different, everyone plays a part, and they are all united by the commitment to grow into genuine dancer personalities. The dancers of the National Youth Ballet (Bundesjugendballett) present their skills in a ballet featuring them all in their diverse facets: BJB Songbook – What We Call Growing Up. A colorful dance collage of pop songs from different musical styles by Imogen Heap, Joni Mitchell, Leonard Cohen, Tracy Chapman, and others. The choreographies are the work of a number of guest choreographers including Kristian Lever, Marc Jubete, Sasha Riva, and former BJB dancers. Sensitively directed by Kevin Haigen, a many-faceted tableau emerges on stage – different choreographic styles blend with sounds from several genres, while both the dancers and musicians are equally involved in the action.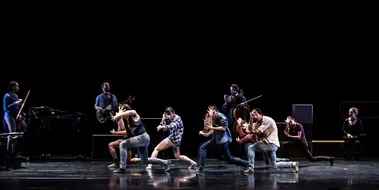 Program
Estimated end time: 18:00
Venue
Bénazetsaal, Kurhaus Baden-Baden
The centerpiece of the Baden-Baden Kurhaus is the Bénazetsaal, which was extensively renovated in 2011. The magnificent ballroom with its 13.5 m barrel vault impresses with its golden proscenium arch and its spacious atmosphere. The high-end lighting and sound technology conjure forth unique ambiences.