Social Dance
Closing event with the Bundesjugendballett and young people
The World of John Neumeier dance festival will also take place in community organizations. Before and during the festival, the members of Bundesjugendballett will dance, choreograph, and have fun with children and young people from the Stulz-von-Ortenberg-Schule and the Kinder- und Jugendheim Baden-Baden. Social commitment is very important to the Bundesjugendballett. "I am always impressed by where the BJB is doing its projects," says John Neumeier. The dancers have already given captivating performances at establishments for young and elderly people, hospitals, and even prisons. The results of the work done during The World of John Neumeier festival will be presented to the public.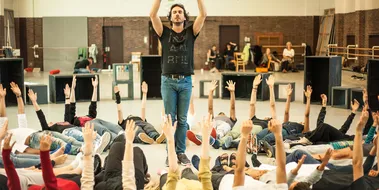 Bundesjugendballett
Jugendlichen der Stulz-von-Ortenberg-Schule
Cooperation and partnership
In collaboration with: L-Bank
Venue
Stulz-Von-Ortenberg-Schule, Gymnastikhalle
Die von Stulz-Schriever'sche Stiftung Baden-Baden ist Träger des Kinder- und Jugendheims und der Stulz-von-Ortenberg-Schule. Sie ist eine moderne Jugendhilfeeinrichtung mit breitgefächertem und differenziertem Angebot und bietet Hilfen zur Erziehung sowie schulische Ausbildungen für Kinder und Jugendliche von 6 - 18 Jahren.