Kirill Petrenko & The National Youth Orchestra of Europe
Beethoven and Strauss
The Berliner Philharmoniker refer to themselves as a "mentor orchestra," epitomizing their relationship with the National Youth Orchestra of Germany. Here the instrumental elite meet Germany's most talented young musicians who have the opportunity to rub elbows with the pros. Kirill Petrenko has chosen Beethoven's Fifth for the program, with the full awareness of Berlin's long Beethoven tradition. Likewise worth mentioning are the interpretations by original sound ensembles, which have also influenced the Berliners with their sleek Beethoven playing. The young musicians thus embark on the study of style as on an adventure, since it is usually first and foremost about correct playing. Here, however, the orchestra has to find an unmistakable voice, beautiful and recognizable among thousands of other Beethoven Fifths.
End approx. 12 o'clock
No break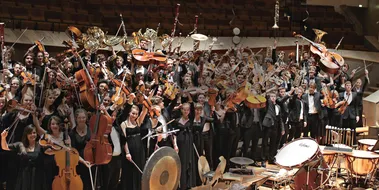 Program
Ludwig van Beethoven
Symphony No. 5 in C minor, op. 67
Jean Sibelius
Finnlandia
Venue
Bénazetsaal, Kurhaus Baden-Baden
The centerpiece of the Baden-Baden Kurhaus is the Bénazetsaal, which was extensively renovated in 2011. The magnificent ballroom with its 13.5 m barrel vault impresses with its golden proscenium arch and its spacious atmosphere. The high-end lighting and sound technology conjure forth unique ambiences.