Kammerballetten
International Choreographies & Chamber Music
Kammerballeten has an unusual story: the company was not founded by a choreographer, but by the Trio Vitruvi, a Copenhagen chamber music trio. The Trio's pianist, Alexander McKenzie, whose father ran a ballet school in Sydney, came into contact with both chamber music and ballet as a child. He found like-minded artists and eventually combined both interests into Kammerballeten in 2018. Since its founding, the Danish company has presented world premieres of new ballet works at festivals at the Royal Danish Opera House in Copenhagen, the Dance Salad Festival in Houston, and the Taipei Performing Arts Centre in Taiwan. Kammerballeten works with leading international dancers and choreographers and combines the intimacy of classical chamber music with the topicality of modern ballets.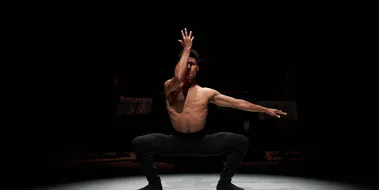 Program
SELVPORTRÆT
Music by Alexander McKenzie
Choreography by Paul Lightfoot
DEBUSSY
Music by Claude Debussy
Choreography by Juliano Nunes
UNPAIR
Music by Franz Schubert
Choreography by Ella Rothschild
Venue
Theater Baden-Baden
Casino tenant Edouard Bénazet commissioned plans for a theater in the style of the Paris Opera in 1856. A design by Charles Couteau was agreed upon. The first performance was Conradin Kreutzer's Das Nachtlager von Granada on August 7, 1862. Two days later, Hector Berlioz conducted the premiere of his opera Béatrice et Bénédict, which he had composed for the opening. Since its complete renovation from 1989 to 1992, performances have been presented with modern stage technology.