Secure the best seats! For discounts click on the i-button next to "Book".
Hamlet 21
The World of John Neumeier: Hamburg Ballet John Neumeier
Neumeier's Hamlet 21 begins in a school class. An ingenious alienation effect that expresses two things: 1) Most of us get to know Shakespeare's Hamlet in school. 2) Prince Hamlet was also young once. Starting from this, Neumeier reveals many catalysts for the Danish prince's later decisions. The choreographer interweaves the viewer's perspective, the history of Shakespeare, numerous historical sources, his own ballet language, and the music of British composer Michael Tippett into a multi-faceted whole. Responsibility for the past is the central theme of the ballet, a work of art that, typically for Neumeier, reconciles modern perspectives with dance tradition.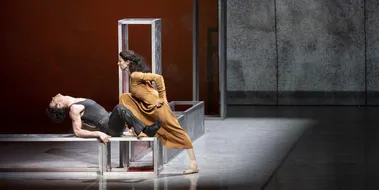 Program
Hamlet 21
Ballet by John Neumeier
after Saxo Grammaticus and William Shakespeare
Music by Michael Tippett
Klaus Hellenstein
Set Designer and Costume Designer
Federico Ceppetelli
Violin
Romain Garioud
Violoncello
Hamburg Ballett John Neumeier