Hotel Magnetberg Baden-Baden ***S
Overlooking the spa town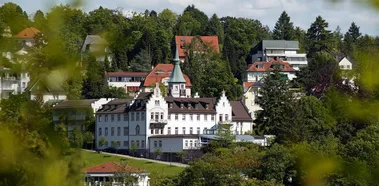 Above the fashionable resort known as Baden-Baden, in the middle of a wonderful park is the Hotel Magnetberg, Baden-Baden. The breathtaking ark, the traditional Facade and the interesting interior are the perfect setting for warm hospitality.
The hotel restaurant is well known in Baden-Baden and the surrounding area as a restaurant tip for regional cuisine. Also popular café and terrace – with house guests and visitors alike from Baden-Baden. A a la carte card is currently available in the restaurant!
For your holiday in the Black Forest, the hotel offers modern and comfortable hotel Magnetberg rooms: 30 single rooms, 44 double rooms and 2 junior suites – quiet and comfortable this guarantee a restful night.
Many of the rooms have a balcony, from where you can enjoy a magnificent view of Baden-Baden.
Check-In: from 2 pm
Check-Out: till 11 am
breakfast: 07.00 am – 10.00 am Monday till Friday
07.00 am – 11.00 am Weekend and Holidays
Contact:
Scheibenstr. 18
D-76530 Baden-Baden
Phone: +49 (0) 7221 / 364-0
Telefax: +49 (0) 7221 / 364-400
http://www.hotel-magnetberg.de/
info@hotel-magnetberg.de
Distance to Festival Hall: 1600 m