Brenners Park-Hotel & Spa *****S
One of the most beautiful hotels in Europe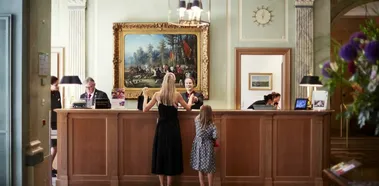 The Brenners Park-Hotel & Spa in Baden-Baden is a beautiful city oasis in the middle of an enchanting park. The House of Wellbeing Villa Stéphanie is a state-of-the-art medical spa with a holistic understanding of wellness. The Fritz & Felix Restaurant stands for an urban lifestyle and authentic and original cuisine.
The House of Wellbeing, Villa Stéphanie is a place where you can enjoy yourself, an oasis of tranquillity and at the same time a modern medical care hotspot with renowned doctors. The holistic approach of the villa consists of medical competence, healthy nutrition, fitness and physiotherapy. In the middle of the beautiful nature with a lot of greenery for the eye and for the soul you can optimally relax, get healthy or stay and give your body a break.
Superior Room
The elegant furnishing of the 35 m² Superior rooms corresponds to the homely character of the Brenners Park-Hotel & Spa. The bathroom is made of the finest marble and, with its spacious bathtub and separate shower, becomes an oasis of well-being. You can enjoy the fantastic view of the private park and the Lichtentaler Allee from your balcony.
Check-In: from 3 pm
Check-Out: till 12 pm
breakfast: 07.00 am – 11.00 am
Contact:
Brenners Park-Hotel & Spa
Schillerstr. 4/6
D-76530 Baden-Baden
Phone: +49 (0) 7221-900-0
Fax: +49 (0) 7221- 900 8744
Mail: information.brenners@oetkercollection.com
Web: www.oetkercollection.com/de/ziele/brenners-park-hotel-spa