Gastronomy
Lobby Bars
The shortest path to refreshment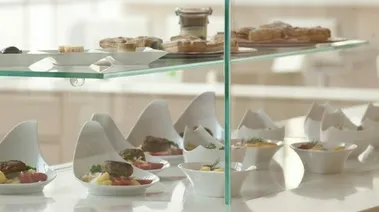 Arendezvous with history. This is where the Old Railway Station and the modern part of the Festspielhaus meet to create a semi-public space for all sorts of brief encounters. The foyer's design successfully blends two distinctive architectural styles into one bright and airy space.

Opening hours
The foyer bars open 90 minutes before performances and during intermissions. The bar on the ground floor stays open after every performance.

Food & Drink
At the foyer bars
The foyer bars offer a selection of drinks, freshly made canapés, pretzels fresh from the oven and sweets.

Snacks during Intermission
If you book a table in advance, we will be delighted to serve you a snack accompanied by a glass of sparkling wine (€ 19) or champagne (€ 24) during the 20-minute intermission. Choose between:

BADEN Variation of canapes (3 pcs.): Smoked salmon with horseradish cream, fried spring chicken with herbs and apple-celery-salad, cream cheese with herbs and radish
RIO Shrimp Cocktail with tangerin and chicory (glutenfree)
ROM "Burrata" (buffalo-milk mozzarella) tomato-carpaccio, basil pesto and pine nuts
BERLIN Smoked salmon with pineapple-mango-chutney (free of gluten and lactose)

Capacity
The foyer bars are equipped with bistro-style tables.
They offer room for about 20 people on every floor.