Gastronomy
AIDA-Restaurant
The Festival Hall restaurant – inspired by Harald Wohlfahrt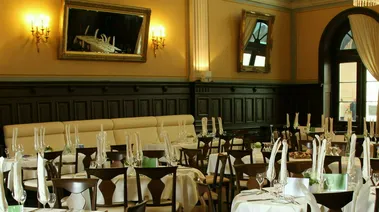 Not everything was better in the good old days – but there was much that looked better. That's why we made few changes to the original design of our restaurant. The wooden floorboards, ornate stucco ceiling, wall mirrors and imposing chandelier of the "Aida" restaurant make for a perfect setting that recalls scenes from a Henry James novel. Fin-de-siècle Baden-Baden at its finest.

Opening hours
The AIDA Restaurant opens two hours before performances, during intermissions and after every performance.

Capacitiy
The AIDA restaurant offers seating for 170 guests.
70 seats in the restaurant
30 seats in the conservatory
60 seats on the terrace and
10 seats at the bar