Gastronomy
AIDA-Bistro
Delicacies and choice wines during intermission and after the applause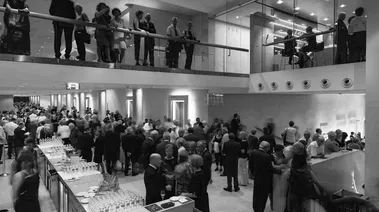 The best rooms are unobtrusive. That's why one of the greatest charms of our foyer lies in its simplicity. Stairways, pillars, the play of light and shadow – that's all it takes to create a very special Aura.

Opening hours
The AIDA bistro opens 90 minutes before performances, during intermissions and after every performance.

Menu & Drinks
Before the performance and during intermissions

The AIDA-Bistro offers à-la-carte-snacks before the performances and during the intermissions.
If you book a table in advance, we will be delighted to serve you a snack accompanied by a glass of sparkling wine (€ 19) or champagne (€ 24) during the intermission.
Please book in advance by phoning +49(0)7221/30 13-101.
Baden Three different canapés: exquisite smoked salmon rose with creamed horseradish, corn-fed poulard breast with spiced glaze and apple and celery salad, herb cream cheese with radishes
Rio Shrimp cocktail with mandarin and chicory (gluten free)
Rome Burrata on tomato carpaccio with basil pesto and pine nuts
Berlin Salmon in nori seaweed parcel with pineapple and mango chutney (gluten and lactose free)
Capacity
The AIDA bistro can accommodate up to 52 guests.
32 seats at the counter
20 places at bistro-style tables