Services
Events and conferences
The Festival Hall Baden-Baden is a premier location for private (birthday) parties as well as corporate events and conferences.
The building is equipped with state-of-the-art event technology. With our quality range of culinary delights prepared by in-house chefs and the first-class service provided by our staff, the Festival Hall Baden-Baden will make sure that all your guests' needs are catered for. We can also create a tailor-made entertainment package for your Event.
Gala Dinner on Stage
For the convenience of our international visitors, we have partnered with travel experts outside Germany who will be happy to provide advice and assistance in your own language to help you make the most of your visit to the Festival Hall and the Baden-Baden region.
Let your event take centre stage! We can help you host a gala dinner on one of the largest opera stages in Europe for 60 to 500 guests.
Just to give you an idea, we can serve an aperitif of sparkling Riesling brut or orange juice, while finger food is "flying" off the trays. Once the guests are seated, the limelight is on an amuse bouche followed by a three-course meal. Matching wines, beer and mineral water all play starring roles and the performance ends with an encore of coffee or espresso. Lit by dozens of spotlights, your very own stage set features beautifully laid tables with flower arrangements and draped chairs. The "score" is made up of menus and nameplates. We also provide a microphone system for your speeches.
Price per person: from € 175
Optional extras: additional services, e.g. a cocktail bar with a barkeeper or live entertainment and a DJ.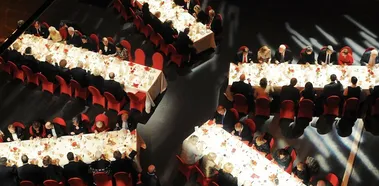 Celebrate in Style in the AIDA Restaurant
The AIDA Restaurant is a living piece of history every bit as glamourous as the stars that play the Festival Hall's stage. We will be delighted to help you plan your exclusive celebration for 40 to 70 people in the luxurious ambience of what was once the Great Duke's Railway Station. From birthdays to wedding anniversaries or family reunions, there are many occasions to celebrate in this festive and unique venue. Our in-house chefs will prepare a buffet or a table-service menu according to your specifications:
Price per person:
3-course menus or more - bearing the signature of star chef Harald Wohlfahrt - including regional wines from € 95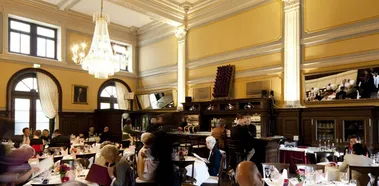 Receptions
The Festival Hall offers a range of different opportunities for receptions and events away from the main stage. Whether it's a champagne reception before or after a guided tour of the building, a reception for your clients with culinary treats and musical entertainment, or a special event at the TOCCARION Musical World for Children – we can help you develop a tailor-made solution that will delight your guests.
Of course you can also count on us to host a reception alongside one of our performances. Please contact us to discuss your ideas or take a look at our packages.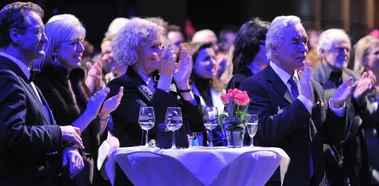 Large Conferences
Baden-Baden has long made a name for itself as a location for large conferences and the Festival Hall, which can host conferences for 300 to 2,250 delegates, is one of the city's premier venues. The advantages are obvious: Delegates are seated in comfortable row seating in an air-conditioned auditorium. The proscenium of the largest German opera house, which is almost 25 metres (75 feet) wide, serves as an impressive backdrop for speeches, lectures, panel discussions and multimedia presentations. Speakers and panel members benefit from a professional microphone system. A laptop and free WiFi for the speakers are provided at no extra cost. In the foyers delegates will be assisted by members of our experienced door staff and cloakroom service. The scenario presented here as an example also includes a snack buffet to welcome delegates on arrival and a coffee break in the morning. A buffet business lunch followed by a cup of coffee in the foyer and unlimited soft drinks are part of the package.
As an optional extra, we can provide state-of-the-art conference technology and many other amenities.
Price per person: from € 155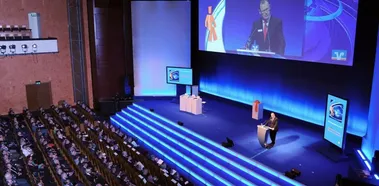 Small Conferences
Aconference held in the artistic ambience of the Festival Hall Baden-Baden is an inspiring experience. Our conference package for 20 to 120 delegates includes the use of a room of sufficient capacity for eight hours. A laptop with free WiFi is available for speakers. A screen, projector and flipchart will be ready for use, and we provide notebooks and pens for delegates. Unlimited soft drinks will be available all day. Two coffee/tea breaks with snacks (morning/afternoon) and a 2-course business lunch including soft drinks and coffee are also part of the package.
Price per person:
Full day flat from € 52
Half day rate from € 72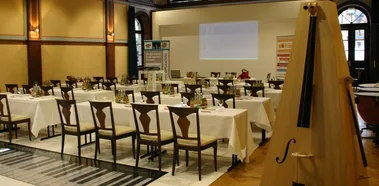 Afterwork-Party
Situated at the heart of a booming economic region between Karlsruhe, Offenburg and Strasbourg, Baden-Baden is a great place to meet up after work. Doing business in Baden style means making the most of the region's culinary and cultural USP's. Festival Hall Baden-Baden can host after-work parties for 50 to 2,250 guests. In the scenario presented here as an example, the foyer has been furnished with tables draped with floor-lengths covers and bar stools. Door staff and cloakroom service are included in the price, and so is a "flying" snack to welcome your guests. Regional wines, draft beer and soft drinks are served with a buffet of cold and warm dishes. Atmospheric lighting effects set the mood for a fun and festive evening. A 6 x 4 metre (18 x 12 foot) illuminated podium and a microphone system for speeches are available. With a 2 a.m. curfew, there's plenty of time to enjoy the atmosphere, network or chill out. Additional services, e.g. a cocktail bar with a barkeeper, live music and entertainment and a DJ, are available as optional extras.
Price per person: from € 139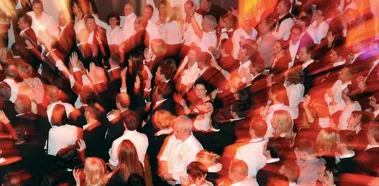 Corporate Events
Festival Hall Baden-Baden is the perfect setting for all kinds of occasions. Whether it's an award ceremony, a product or campaign launch, an incentive event, a summer or Christmas party: ideas for corporate events are always welcome in the home of great opera, concerts and quality entertainment. If you are planning to celebrate a corporate anniversary in style, the Festival Hall's stage provides the perfect setting. We would be delighted to create a customised package tailored to your requirements.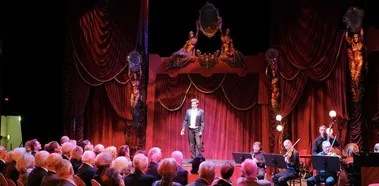 Tradeshows
Special moments happen frequently at the Festival Hall Baden-Baden. Celebrate your products in a place where concert and opera audiences cheer with thunderous applause. Designed by the architect Richard Holzbauer, our light and airy foyer has already hosted a number of tradeshows and sales events.
Speak to our experienced team to discuss catering options and current room hire fees. We know how to stage successful shows – let us help you stage yours!
We would be delighted to create a customised package tailored to your requirements.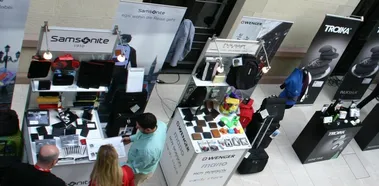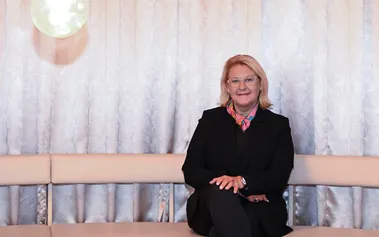 GASTRONOMY
Sabine Bernhard
Head of Department