23.3. - 1.4.2024
Easter Festival Baden-Baden
Berliner Philharmoniker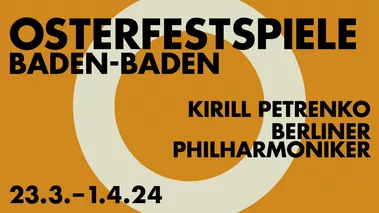 ACROSS THE BORDERS
With works by Ludwig van Beethoven, Franz Schubert, Richard Wagner, Johannes Brahms, Anton Bruckner, Jean Sibelius, and Richard Strauss, the 2024 Baden-Baden Easter Festival will be more varied and genre-encompassing than ever before – featuring, as the centerpiece, Richard Strauss's masterpiece Elektra.
In this way, the Berliner Philharmoniker and chief conductor Kirill Petrenko will be continuing their two-year program for Baden-Baden. The double offering of Tchaikovsky's operas Mazeppa and The Queen of Spades (2021/2022) have already demonstrated how compelling this program idea is.
Tugan Sokhiev will conduct the Beethoven-Bruckner evening, accompanying Canadian pianist Jan Lisiecki with the Berliner Philharmoniker. Like Lisa Batiashvili (violin), he is a favorite guest in Baden-Baden.
We look forward to seeing all these artists, and first and foremost, you! See you at the Easter Festival Baden-Baden 2024!