9.4. - 18.4.2022
Easter Festival
Berliner Philharmoniker
The Festspielhaus and the Berliner Philharmoniker have been presenting the Easter Festival in the Black Forest since 2013. The idea, which was initiated by Herbert von Karajan, was taken up by Sir Simon Rattle in Baden-Baden and has now been passed on to Kirill Petrenko. The Baden-Baden Easter Festival is world renowned for a unique feature: the Berliner Philharmoniker transforms itself into an opera orchestra and accompanies staged performances from the orchestra pit. In addition, members of the orchestra curate all the other festival programs. New from this season: the Baden-Baden Salon, in which one of the Festival's themes is illuminated through the lens of different art forms. In addition to music, we will also be hearing from literature and philosophy. The encyclopedic, all-encompassing aspiration was already part of the festival idea in the nineteenth century, when new canons were continually being created and called into question. A good starting point, we believe – including for the pressing questions of today.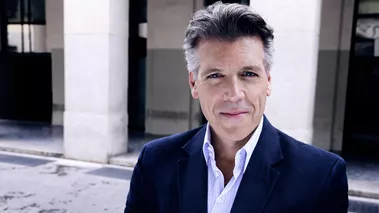 WED 13.4.22
FESTIVAL GALA 2022
Berliner Philharmoniker - International Opera Soloists
A gala concert under the banner of humanity and solidarity will be heard on Wednesday, April 13, 2022 at 6 p.m. as part of the Baden-Baden Easter Festival with the Berliner Philharmoniker.
Festival Lounge in the Kurhaus
Introductions to opera and concerts, family programs and more: in the Easter Festival Lounge, the day with the Berliner Philharmoniker begins even before noon. Here, visitors, musicians, and experts meet for discussions and music educational programs in a relaxed atmosphere.

Community project
Together with the National Youth Orchestra of Germany, young people from all over Germany with an immigration background will travel to the Easter Festival for the first time at the invitation of the START Foundation, where they will explore a current social topic against the backdrop of the musical programs. In workshops, public discussions, rehearsal visits, and dialogues with artists, bridges are built between musical practice and social questions.

Baden-Baden Salon
At the beginning of the Easter Festival, literature and philosophy also enter the scene. In a reading followed by a panel discussion, contemporary writers and other participants in the Baden-Baden Salon will explore a central theme of the Festival. The program and participants will be announced at the beginning of 2022 on the Festspielhaus website as well as on www.osterfestspiele.de.