Y. Nézet-Séguin: Chamber Music II
Summer Festival 2022: Chamber Orchestra of Europe
When Yannick Nézet-Séguin sets up camp in Baden-Baden with his musician friends and the Chamber Orchestra of Europe, it's reason enough for a present. We are offering the musicians time and the stage – and encouraging everyone to engage in spontaneous music-making, during which the conductor will have the opportunity to show what a splendid pianist he is. Nézet-Séguin will be performing chamber music on an equal footing with the musicians of the Chamber Orchestra of Europe – an egalitarian approach that also distinguishes his conducting. We have fond memories of the Beethoven cycle in summer 2021. In order to create such memories, festivals are needed where something can develop that hasn't been planned for months in advance, but translates the atmosphere of Baden-Baden directly into music.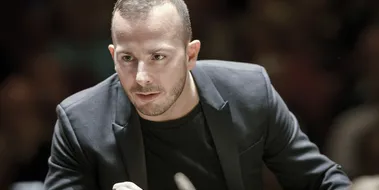 Mit Brahms in Baden-Baden
Kulturreise Sommerfestspiele
Regelmäßig zum Sommerbeginn fand sich der Komponist Johannes Brahms in Baden-Baden ein, um Musik zu schreiben, zu wandern – und nicht zuletzt, um seine Freundin Clara Schumann zu besuchen. Unsere Sommerfestspiele widmen sich dem Werk des großen Meisters. Im Rahmen dieser Kulturreise wird das Programm in Konzertbesuchen und mit einem literarischen Stadtspaziergang auf den Spuren Johannes Brahms' vertieft. Das hätte dem Meister selbst gefallen.