Unité
European works of the Renaissance
They are among the most important testimonies of music and can now finally be heard in Baden-Baden: We are talking about the vocal ensembles of the Renaissance. The great treasure of this time was namely vocal music. Motets and madrigals, classically in five voices: in miniature quite "symphonies for singing voices". No wonder that the soloists of the Balthasar Neumann Choir devote themselves to these masterpieces with joy. Especially since all the voices are in harmonic equilibrium with each other - unless one is singing of agonies of love. Then, however, harmonies are found that are as beautiful as they are painful.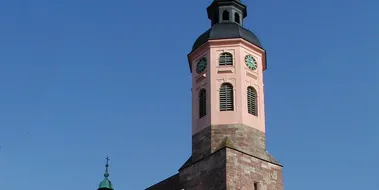 Program
Unité
European works of the Renaissance
Music by Monteverdi, Gesualdo, Josquin Desprez and others
Bobbie Blommesteijn
Soprano
Continuo des Balthasar-Neumann-Orchesters
Venue
Stiftskirche Baden-Baden
Die Errichtung der Stiftskirche geht ins 13. Jahrhundert zurück, sie ist die älteste Kirche in Baden-Baden. Im 15. Jahrhundert erweiterte man den romanischen Bau zu einer gotischen Hallenkirche, die in den folgenden Jahrhunderten immer wieder bauliche Veränderungen erlebte.
Zu den bedeutendsten Kunstwerken in der Kirche gehört das monumentale Sandsteinkreuz des Nikolaus Gerhaert von Leyden (1467), ein überragendes Zeugnis gotischer Skulpturenkunst.
Ebenso erwähnenswert sind das spätgotische Sakramentshäuschen (um 1490) sowie eine Sitzmadonna aus Lindenholz (14. Jahrhundert) und eine spätgotische Madonna mit Kind aus Sandstein (um 1500).
Bis zum Aussterben der Linie Baden-Baden im Jahr 1793 war die Stiftskirche die Grablege der markgräflichen Familie, wovon viele aufwendig gestaltete Gedenktafeln im Chorraum der Kirche zeugen.
Sponsored by the Baden-Württemberg Stiftung