Sonoro Quartett
Matinee
A string quartet takes us on a journey around the world: a fitting description of the program of the Sonoro Quartet, which hails from Belgium. Today it will be presenting music that incorporates influences from Russia (Beethoven), Hungary (Bartók), and South Asia (composer and DJ Vinthyia Perinpanathan).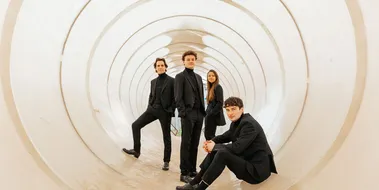 Program
Annelies Van Parys
Commissioned Work, composed for the Sonoro Quartet
Béla Bartók
String Quartet No. 5
Vinthya Perinpanathan
Flight UL505
Ludwig van Beethoven
String Quartet No. 9 in C major, op. 59, no. 3 ("Razumovsky")
Sarah Jégou-Sageman
Violine
Cooperation and partnership
Patrons of the Concert: Silke Weber
Encore!
You might also like