Secure the best seats! For discounts click on the i-button next to "Book".
Sol Gabetta & Sir Simon Rattle
London Symphony Orchestra
A song can accompany a couple in times both good and bad: for Robert and Clara Schumann it was "Nimm sie hin denn, diese Lieder" from Ludwig van Beethoven's An die ferne Geliebte. Beethoven's song is quoted by Schumann in his Second Symphony – as it was in the piano fantasy that Arcadi Volodos featured on his program this season. To return to Schumann's Symphony, the times were not good: the composer was suffering from depression while he was working on it. Edward Elgar also fought against melancholy while writing his Cello Concerto. It would be the British composer's last completed work, a symphony with solo cello reminiscent of Brahms and Tchaikovsky – in a sense Elgar's Symphonie Pathétique.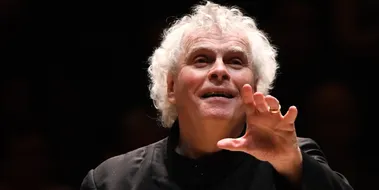 Program
Hector Berlioz
Le Corsaire, op. 21
Edward Elgar
Cello Concerto in E minor, op. 85
***
Robert Schumann
Symphony No. 2 in C major, op. 61
Estimated end time: 18:40