Sociétés
The Music of the Salons
The young South African Kristian Bezuidenhout is the most famous fortepiano player of our time. With the members of the Balthasar Neumann Orchestra, he will be performing music from the early Romantic period – including Schubert's celebrated Trout Quintet. Music written for friends that easily loses its special quality on a typical Steinway. Bezuidenhout, however, "plays the fortepiano with the inner attitude of an expressive musician in the tradition of Romanticism…" (concerti magazine). It is a tradition that is being re-explored by young musicians today – based on sources and beyond a naive approach of "I feel, so that's how I play."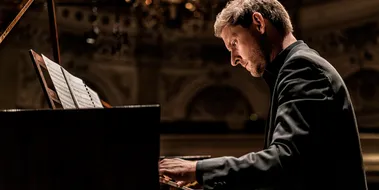 Program
Sociétés
The music of the salons
Franz Schubert
Piano Quintet in A major, D. 667 ("The Trout")

and other works of German and French Romanticism
Kristian Bezuidenhout
Pianoforte
Pablo Hernán Benedí
Violin
Christoph Dangel
Violoncello
Diego Zecharies
Contrabass
Venue
Theater Baden-Baden
Casino tenant Edouard Bénazet commissioned plans for a theater in the style of the Paris Opera in 1856. A design by Charles Couteau was agreed upon. The first performance was Conradin Kreutzer's Das Nachtlager von Granada on August 7, 1862. Two days later, Hector Berlioz conducted the premiere of his opera Béatrice et Bénédict, which he had composed for the opening. Since its complete renovation from 1989 to 1992, performances have been presented with modern stage technology.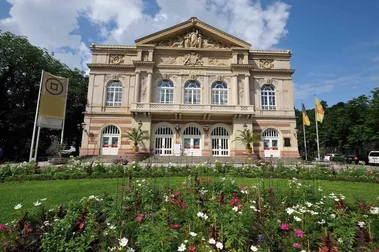 Sponsored by the Baden-Württemberg Stiftung