Presence: Late-Night
Jazz at night
Over the last few years, nothing has refreshed jazz like its contact with electronic music. This is clearly heard in the performances of Libor Sima and Felix Borel, two musicians and skilled improvisers from the SWR Symphonieorchester who have teamed up with jazz musicians from Germany. The small ensemble featuring solo violin harks back to the beginnings, when Stéphane Grappelli invented a European variety of jazz with guitarist Django Reinhardt in the Quintette du Hot Club de France. They combine tradition with avant-garde, improvisation with classical performance: we hope this New Standard will become just that!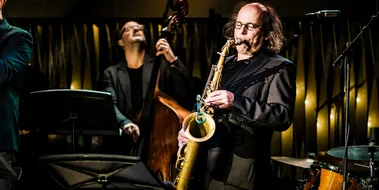 Libor Sima
Felix Borel
Jochen Schorer
Mini Schulz
Meinhard "Obi" Jenne
Venue
Orangerie in Brenners Park-Hotel & Spa
The Orangerie forms part of a world-renowned grand hotel: with a history spanning more than 150 years, Brenners Park Hotel & Spa sits in a splendid location on Baden-Baden's Lichtentaler Allee. As the heart of the event space, the Orangerie impresses with its high arched windows providing a view of the avenue. Experiencing music in an intimate setting has always been a tradition at Brenners.