Presence: Chamber Music
Members of the SWR Symphonieorchester
Modern music that can be whistled. Well, why not? This was the question Esa-Pekka Salonen asked himself during his composition studies, together with others from his generation who wanted to give the avant-garde a vigorous breath of fresh air – even if it meant receiving sincere applause from the audience. "European avant-garde," we should add, because this opposing wind, with which Salonen aligned himself, mostly came from America. Salonen's Memoria owes a great deal to American minimal music, so we have decided to feature this short piece alongside one of the all-time classics: Riley's In C, a work that was instrumental in giving birth to this new genre, the only popular style that emerged from the 20th century musical avant-garde.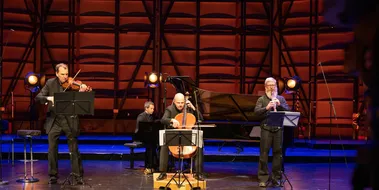 Program
Terry Riley
In C
Esa-Pekka Salonen
Memoria for Wind Quintet
Charles Gounod
Petite Symphonie in B-flat major
Estimated end time: 20:30
Harald Matjaschitz
Bassposaune
Jochen Schorer-Romeis
Drums
Venue
Evangelische Stadtkirche Baden-Baden
The Evangelische Stadtkirche Baden-Baden is the spa town's oldest Protestant church. The neo-Gothic building based on plans by Friedrich Eisenlohr was begun in 1855, but only consecrated nine years later. At its consecration in 1864, the church was still lacking towers, which were finally built and completed in 1876, not according to Eisenlohr's original plans, but to those of architect Heinrich Lang.