Presence: Chamber Music
Members of the SWR Symphonieorchester, St Johanniskirche
Modern music that can be whistled. Well, why not? This was the question Esa-Pekka Salonen asked himself during his composition studies, together with others from his generation who wanted to give the avant-garde a vigorous breath of fresh air – even if it meant receiving sincere applause from the audience. "European avant-garde," we should add, because this opposing wind, with which Salonen aligned himself, mostly came from America. Salonen's Memoria owes a great deal to American minimal music, so we have decided to feature this short piece alongside one of the all-time classics: Riley's In C, a work that was instrumental in giving birth to this new genre, the only popular style that emerged from the 20th century musical avant-garde.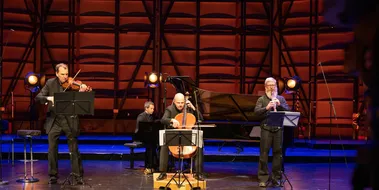 Program
Terry Riley
In C
Esa-Pekka Salonen
Memoria for Wind Quintet
Charles Gounod
Petite Symphonie in B-flat major
Estimated end time: 20:30
Rudolf König
Horst Ziegler
Harald Matjaschitz
Bassposaune
Jochen Schorer-Romeis
Drums
Sebastian Manz
Marc Noetzel
Venue
St Johanniskirche
Die St. Johanniskirche ist auch unter dem Namen "Englische Kirche" bekannt. Im Jahr 1864/65 wurde sie als "All Saints Church" für die damalige anglikanische Gemeinde am Gausplatz (Ecke Bertholdstr/ Ludwig-Wilhelm-Str) in der Baden-Badener Innenstadt erbaut. Nach dem Ende des zweiten Weltkrieges und der Auflösung der anglikanischen Gemeinde wird die Kirche von der Evangelisch-Lutherischen Kirche genutzt. Seither heißt sie "St. Johanniskirche".