Secure the best seats! For discounts click on the i-button next to "Book".
Patricia Kopatchinskaja & Friends
Whitsun Festival 2022: Members of the SWR Symphonieorchester
Have you heard of the Romanian composer George Enescu? A composer, violinist, pianist, teacher, and conductor, iconic cellist Pablo Casals referred to him as "the greatest genius since Mozart." Enescu's memory was so good that after playing through Ravel's Violin Sonata once, he had already mastered it by heart. The Octet, written when he was nineteen, is already a masterpiece that combines Romanian folk music with Central European counterpoint. Patricia Kopatchinskaja, who has been championing Enescu's works for years, will be performing it with members of the SWR Symphonieorchester before she quite literally changes roles: becoming a participant in a film that portrays the Ursonate by Dadaist artist Kurt Schwitters.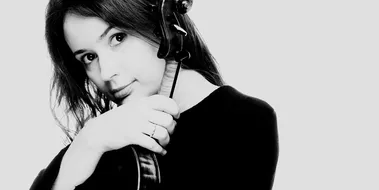 Program
George Enescu
String Octet in C major, op. 7
Kurt Schwitters
Ursonate, interpreted by Patricia Kopatchinskaja
Estimated end time: 5:30 PM
Frank-Michael Guthmann
Cello
Musiker des SWR Symphonieorchesters
Pre-Concert Talk (in German)
Um 14:40 Uhr findet auf der Ebene 3 ein Einführungsvortrag statt. Der Vortrag dauert etwa 20 Minuten und wird um 15:10 Uhr wiederholt. Gegen eine Gebühr von € 5 haben Sie beim telefonischen Kartenkauf die Möglichkeit, einen Sitzplatz im Einführungsraum zu reservieren. Nicht in Anspruch genommene Reservierungen verfallen mit Vortragsbeginn.