Minguet Quartett
Matinee
With numerous award-winning recordings, the Cologne-based Minguet Quartet is one of today's leading string quartet ensembles. Its unusual programs hark back to its namesake: Spanish philosopher Pablo Minguet sought in the eighteenth century to give the general public access to the arts. The Quartet follows his example by combining two of the most popular quartets of all time with some lesser-known repertoire finds.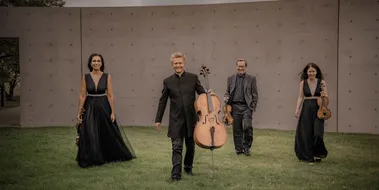 Program
Josef Mysliveček
String Quartet in F major, op. 3, no. 2
Arnold Schoenberg
Scherzo in F major
Gustav Mahler
Ich bin der Welt abhanden gekommen (arranged for string quartet)
Leoš Janáček
String Quartet No. 1 ("Kreutzer Sonata")
Antonín Dvořák
String Quartet No. 12 in F major, op. 96 ("American")
Cooperation and partnership
Patrons of the Concert: Silke Weber
Encore!
You might also like