Secure the best seats! For discounts click on the i-button next to "Book".
Gromes - Victoria - Riem
Nowadays even elevators sing, but at the beginning of the 20th century music was so precious that neighbors would open their windows to hear someone who was simply tinkling the piano for a moment. At the time, salon music was not only played in salons, but on the streets, in front of cafes, and even in churches – and in the most unusual instrumental combinations. Today's matinee invokes the memory of such times as it brings together three instruments that otherwise rarely meet. The concert features Opus Klassik winners Raphaela Gromes, cello and Julian Riem, piano with Gewandhausorchester harpist Gabriella Victoria.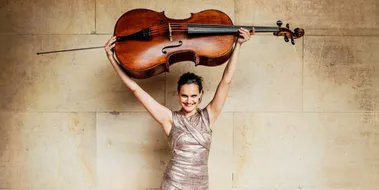 Program
Robert Schumann
Fantasiestücke (cello and piano)
Claude Debussy
Clair de lune (harp)
Les fées sont d´exquises danseuses (piano)
Ce qu´a vu le vent d´ouest (piano)
Heitor Villa-Lobos
Black Swan (cello and harp)
Camille Saint-Saëns
The Swan (trio)
Peter I. Tchaikovsky
Excerpts from Swan Lake (trio)
***
Robert Schumann
Märchenbilder (cello and harp)
David Popper
Excerpts from Im Walde (cello and piano)
Franz Liszt
Gnomenreigen (cello and piano)
Alphonse Hasselmans
La source (harp)
Antonín Dvořák
"Song to the Moon" from Rusalka (trio)
John Williams
"Anakin and Padmé" from Star Wars (trio)
"Hedwig's Theme" from Harry Potter (trio)
Estimated end time: 18:55