Secure the best seats! For discounts click on the i-button next to "Book".
Danish String Quartet
Death and the Maiden
The Danish String Quartet, the country's most famous chamber ensemble, performs musical miniatures and Schubert's Death and the Maiden. First we will hear a panopticon of works that expand the possibilities of the string quartet and yet remain very accessible. With Schubert's Quartet the mood changes abruptly: in its slow variation movement, the dark Romantic work evokes Schubert's celebrated song about the girl who struggles with death before finally yielding to the inevitable. Schubert's music even portrays her dying pulse. In the frenzied finale, the composer harks back to another of his songs as the music retells the story of Goethe's poem "Erlkönig."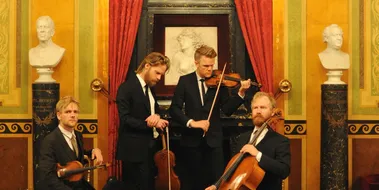 Program
Benjamin Britten
Three Divertimenti
An Alleged Suite
Dance movements by Marc-Antoine Charpentier, John Adams, and Felix Blumenfeld, compiled by Danish String Quartet
Marc-Antoine Charpentier
Prelude to Te Deum
John Adams
Pavane "She's so fine"
from: John′s Book of Alleged Dances
Courante
trad. Polish
Felix Blumenfeld
Sarabande
John Adams
Gavotte "Stubble Crochet"
from: John′s Book of Alleged Dances
Marc-Antoine Charpentier
Gigue française
from: Concert pour quatre parties de violes
John Adams
Gigue "Toot Nipple"
from: John′s Book of Alleged Dances
***
Franz Schubert
String Quartet in D minor, D. 810 ("Death and the Maiden")
Estimated end time: 18:40
Danish String Quartet
Rune Tonsgaard Sørensen
Violin
Fredrik Schøyen Sjölin
Cello