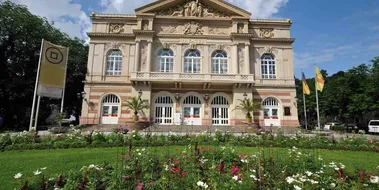 Program
Female roles
Musical-literary intermezzo on Richard Strauss

Songs and excerpts from Intermezzo and Der Rosenkavalier (arranged for chamber ensemble).
Reading: from the letters of Richard and Pauline Strauss, among others

Estimated end time: 3:20 PM
Mitglieder der Berliner Philharmoniker
Mitglieder des Ensembles Theater Baden-Baden
Venue
Theater Baden-Baden
Casino tenant Edouard Bénazet commissioned plans for a theater in the style of the Paris Opera in 1856. A design by Charles Couteau was agreed upon. The first performance was Conradin Kreutzer's Das Nachtlager von Granada on August 7, 1862. Two days later, Hector Berlioz conducted the premiere of his opera Béatrice et Bénédict, which he had composed for the opening. Since its complete renovation from 1989 to 1992, performances have been presented with modern stage technology.