Chamber Music II
Whitsun Festival
After so much Wagner and so many Wagnerians over the last few days, it's time for the opposite: chamber music that is witty, charming, funny, and playful – and often composed as a deliberate alternative to the German musical god, for example in Hindemith's Flying Dutchman spa orchestra parody, a work brimming with technical difficulties. In addition to his Dutchman, Hindemith composed numerous other parodies whose titles and instrumentation are all that have been preserved: for example, Music for 6 Instruments and a Page Turner, a Gouda-Emmental March, and a song in the style of Richard Strauss to a text from a beekeeping newspaper.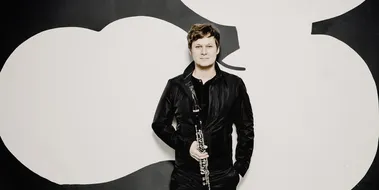 Program
Johann Strauß (Sohn)
Emperor Waltz, op. 437 (arranged by Arnold Schoenberg)
Claude Debussy
Sonata for Flute, Viola and Harp in F major
Maurice Ravel
Le Tombeau de Couperin (arranged by Mason Jones)
Benjamin Britten
Phantasy Quartet, op. 2
Paul Hindemith
Overture to the Flying Dutchman as Sight-read by a Bad Spa Orchestra at 7 in the Morning by the Well, for String Quartet
Estimated end time: 20:30
Jean-Christophe Garzia
Viola
Venue
Theater Baden-Baden
Casino tenant Edouard Bénazet commissioned plans for a theater in the style of the Paris Opera in 1856. A design by Charles Couteau was agreed upon. The first performance was Conradin Kreutzer's Das Nachtlager von Granada on August 7, 1862. Two days later, Hector Berlioz conducted the premiere of his opera Béatrice et Bénédict, which he had composed for the opening. Since its complete renovation from 1989 to 1992, performances have been presented with modern stage technology.