Brahms under the summer sky
Classical public viewing in Lichtental Kloster
A first in Baden-Baden: at this year's La Capitale d'Été Summer Festival, EnBW (Energie Baden-Württemberg) and the Festspielhaus Baden-Baden invite you to a classical public viewing at the Lichtental Abbey. On this evening we will exclusively broadcast the Brahms concert from the Festspielhaus Baden-Baden onto a screen in the Abbey courtyard. With free admission and in picturesque surroundings, we'll probably feel closer to Johannes Brahms than anywhere else. Just a stone's throw away, the composer spent every summer for eighteen years. And when he visited Clara Schumann on the Lichtentaler Hauptstraße, he passed by the Abbey, where the Cistercian nuns were already running a school at the time.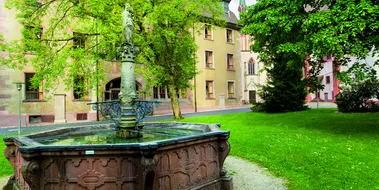 Program
Robert Schumann
Piano Concerto in A minor, op. 54
***
Johannes Brahms
Symphony No. 2 in D major, op. 73
Cooperation and partnership
Presented by: EnBW – Energie Baden-Württemberg
Venue
Kloster Lichtental
The abbey is located at the end of Lichtentaler Allee in a bend of the Oos. It is enclosed by a monastery wall that largely keeps out the noise and bustle of the city. The monastery was founded by Margravine Irmengard of Baden in 1245 as the burial place of the margraves of Baden. Cistercian nuns have been praying and working at this site for 775 years.

Note: The parking situation around the Lichtental Monastery is problematic. We recommend the use of public transport to get there.