Boomtastic!
Percussion show for the whole family
Six young percussionists, all from the field of classical music, make music together: navigating between all genres, on vibraphone, marimbaphone, glockenspiel, congas, shakers, snare and bass drums, cowbells, claves, boomwhackers, tambourines, triangles. It sounds like an attic with a thousand toys. And is just as much fun!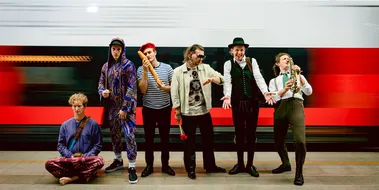 Program
Estimated end time: 19:00
Krištof Hrastnik
Florian Klinger
Schlagwerk
Alessandro Petri
Schlagwerk
Maximilian Thummerer
Schlagwerk
Blaž Bertoncelj
Tontechnik
Martin Nowosad
Licht und Visuals
Encore!
You might also like